While there are countless online and print resources available for vegans, I am sharing here my vegan recipes that have been loved by the family, especially the children. When I turned vegan, I received love and kindness from the world over and this is my small attempt to give some back. To happy and healthy food ! 
Recipe for 8-9 pita breads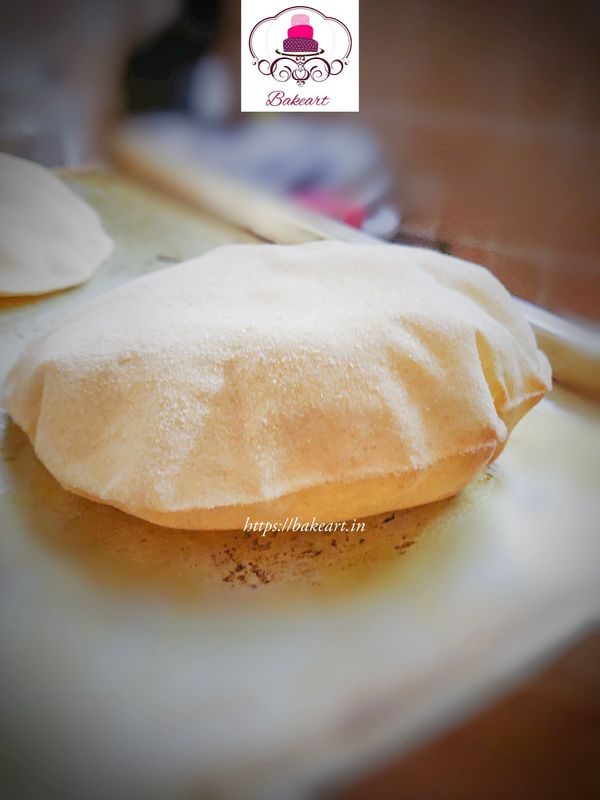 Ingredients:

Organic whole wheat flour - 250 grams 
Luke warm water - 250 grams 
Organic rock salt - 1 teaspoon
Fresh yeast - 20 grams or active dried yeast - 12 grams 
Organic cane sugar or date paste - 1 teaspoon
Method :

1. Bloom the yeast. In your mixing bowl add 50 grams of luke-warm water (110f) and stir in the date paste or sugar. Add yeast and mix till the mixture becomes pasty. Cover and leave the yeast to froth and bubble for about 10 minutes. This let's you know if the yeast you are working with is alive or not so don't skip this step. 
2. Then add in the flour and salt . Salt should not come in direct contact with the yeast so mix in in the flour before adding to the yeast. 
3. Add in water. You may need less or more water depending on your climatic conditions such as humidity and the nature of flour. 
4. Form a loose dough. This should be a soft dough and should hold it's shape when formed into a ball. 
5. Let this dough rest in a greased bowl, covered with a wet kitchen towel, in a warm place for an hour until double in size. 
6. Punch the dough and deflate it. Divide in 8 equal pieces. Form tight balls and let them rise again for 30 minutes on a well floured surface . Cover with a damp kitchen towel. 
7. Pre heat oven to 230C and place a tray in the middle rack to heat it.   
8. Roll out 1/4 inch thick round discs from each dough ball and leave it to rest on a well floured surface. 
9. Bake each pita on the preheated tray (3-4 at a time depending on your over size ) for 5-7 minutes till they are completely puffed up.  
Enjoy your fresh baked pita breads ! 
Vegan chocolate hazelnut spread 
(tastes like Nutella!) 
:) hazelnuts, Belgian chocolate, cold pressed coconut oil and pink Himalayan salt !
Ingredients:
Hazelnut- peeled 250 grams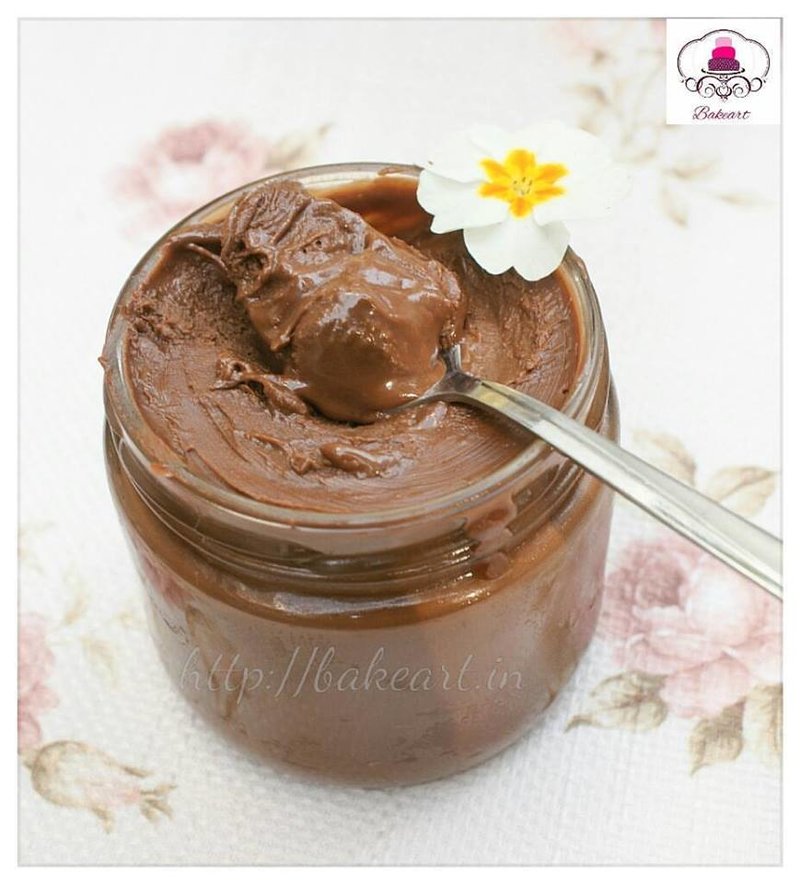 Callebaut callets dark - 90 grams 
Cold pressed Coconut oil - to blend, about 20 grams 
Powdered cane sugar or deseeded dates - 50 - 100 grams as per taste
Vanilla - 1 tsp
Pink Himalayan salt - 1/2 to 1 tsp as per taste
Recipe
1. Roast hazelnut in the oven till lightly brown . About 10-15 mins at 150 deg C
2. Blend hazelnuts in your blender . Keep scraping from the sides. Add coconut oil to help blending as necessary. Blend till the hazelnuts are liquidy.
3. Heat callebaut over a water bath. Add to the hazelnut spread in the blender. 
4. Add vanilla and salt and blend till well combined .
5. Add some powdered cane sugar if you'd like the spread sweeter.
6. Empty the liquid from the blender into a glass jar and store in a refrigerator to cool. 
7. On cooling the coconut oil will tend to solidify, leave the jar out to reach a spreadable consistency. Alternately, you can substitute any vegetable oil of your choice. 
8. This spread should store upto six months in your refrigerator.
Vegan Pumpkin Soup
(Serves 1-2)
I vegan-ised this family favorite :) to make a quick and hearty soup. 
Ingredients

Pureed Pumpkin - 200 grams  
(Steam pumpkin with an onion and blend the resulting soft vegetable to get a creamy vegetable puree)

Coconut milk - 100 ml.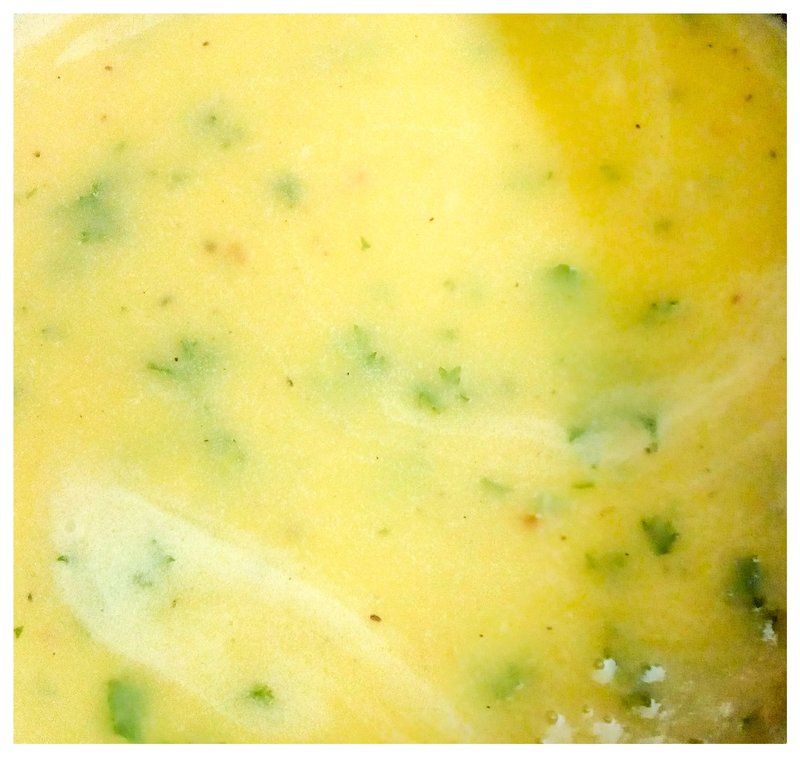 Nutritional yeast - 5 grams (optional)
Salt - 5-10 grams 
Cold pressed ground nut oil - 5 ml.

Garlic - 2-3 cloves well grounded 
Freshly parsley for garnish as per taste (optional)
Italian seasoning - as per taste 
Pepper - as per taste
Method
1. Heat oil on medium flame in a cooking vessel. 
2. Add ground garlic on medium heat till light brown. 
3. Add in the pumpkin puree, coconut milk, salt , seasoning and pepper . 
Stir till mixed well 
4. Thin the soup with water to adjust the consistency. Recheck and adjust seasoning. Add garnish if using. 
5. Serve hot !
Notes: 
The pumpkin soup tastes best with garlic. I recommend that you don't skip garlic for this recipe. 
Vegan Tofu Makhni
(Serves 3-4)
Before I turned vegan, Paneer (cottage cheese) formed an important part of food at home. We had paneer three times a week with panner makhni being both a staple meal time dish and also much loved by guests at home. While I never did use any butter in my recipe, It did use paneer and cream. The original recipe was drawn from a Tarla Dalal book. 
When I first made this vegan version, the kids did not figure out any difference . That was a winner ! 
Ingredients
Tofu - 150 grams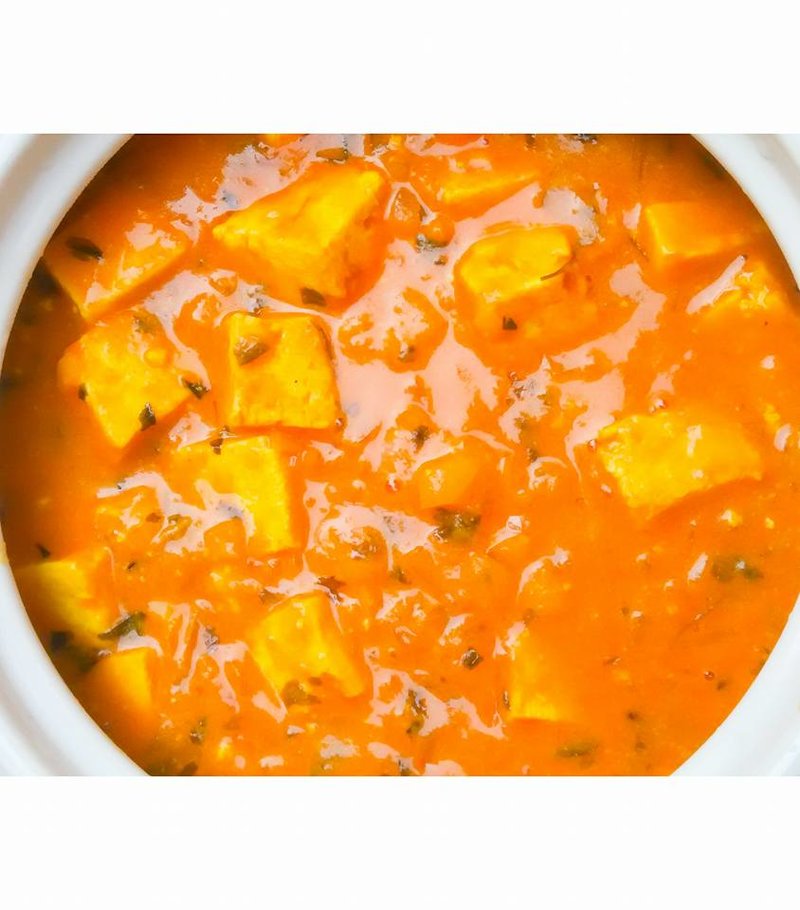 (Marinated overnight with 4 tbsp coconut milk, a pinch salt, one pinch turmeric and one tsp nutritional yeast)
Coconut milk - 100 ml. 
Nutritional yeast - 5 grams 
Salt - 5-10 grams 
Sugar - 10-20 grams depending on the tartness of tomatoes 
Kasoori methi - 10 grams
Turmeric - 3 grams 
Tomato puree - 150 grams 
Chopped onion / onion paste - 50 grams 
Ginger paste - 5 grams 
Garlic paste - 5 grams 
Canola oil - 10 grams 
Method
1. Heat oil on medium flame in a cooking vessel. 
2. Add ginger-garlic pastes and saute on medium heat till light brown. 
3. Add the onion and saute till onion turns brown. 
Add the salt, turmeric and kasoori methi. Stir to mix and add the tomato puree. 
4. At this stage, cube the tofu and keep aside. 
5. Thin the gravy with water and season it with sugar. 
6. Taste and check the seasoning. Adjust salt and sugar as required. 
7. Add the tofu and the coconut milk . Cover and let simmer till the tofu is absolutely soft. 
8. Enjoy with hot rotis ! 
Notes: 
I've never used silken tofu. I buy the one most easily available with the neighborhood grocer. 
Do not skip the simmering tofu step!